Blue Ridge School - District #56
Cheyenne County, Kansas
Memories of a One-Room School House
created by Penny Raile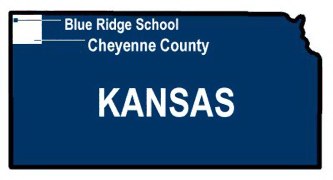 Blue Ridge School District #56, located in the northwest corner of Cheyenne County, Kansas, provided an education for students from the first to eighth grade from 1888 to 1966. The school had as many as forty students at one time to as few as nine students. All eight grades were taught in one room by one teacher.
The first Blue Ridge schoolhouse was built on what was known as the Hilt land. Later, a different school was built on the Raile land and then even later the second building was moved another few miles north where the school existed until 1966. The building was sold at auction and moved to the Vandike farm where it was used as a garage. The foundation of the second school remains and is commemorated by a marker.
This web site is for all the students and teachers that went to Blue Ridge District #56. To add pictures, names and stories, please contact me at
PRaile@adel
phia.net
. A big thank you to Ella Mae Keller for sharing the pictures and information she had compiled.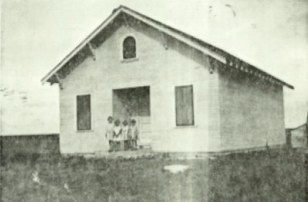 Blue Ridge School House
Helen Schlepp, Norma Rueb, Dorothy Schlepp and Alma Hilt
September 1931
from William G. Cutler's History of the State of Kansas
Kansas Territory having been organized May 30, 1854, its first Territorial Legislature passed a school law August 30, 1855, and from that date the history of the public school system of Kansas properly began.